Discounted Lift Tickets for Squaw Valley or Alpine Meadows
We are not selling lift tickets this year.
We decided not to sell Squaw or Alpine lift tickets this season. Currently you can buy tickets on the Squaw Valley/Alpine Meadows website for the same price as we sold the tickets last year, but you need to buy them before midnight the day before you want to ski.
See:
http://squawalpine.com/
Summer Freebie for Skiers
To let winter people experience a Tahoe Summer!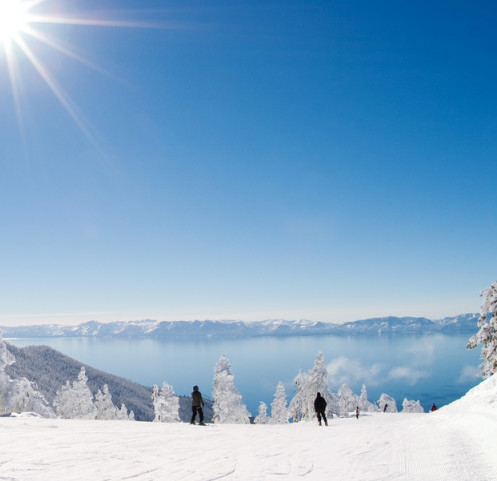 Stay at Tamarack eight nights between Jan. 1st and April 30th 2018 and receive one free night at Tamarack in the summer. Pay the regular price for eight nights this winter season, then come back and enjoy your free summer night between June 1st and September 30th. Free room cannot be claimed on Saturdays, the 4th of July weekend, or Labor Day weekend, and will be of the type most frequently rented by the guest. All reservations must be made in the same name, and that person must be present. Free night is non-transferable, and is subject to availability. REDEEM BY 30 SEPTEMBER 2018.
Turkey Day in Tahoe
The bird's on us.
Spend Thanksgiving weekend at Tamarack in a room with kitchen, and we'll provide the turkey. Take advantage of our low fall rates and help revive an old Tradition, Turkey Day in Tahoe. Must stay three nights to redeem the turkey, and you do the cooking! Call for details.
Weddings and Reunions
If your wedding will be in Tahoe, reserve rooms with us. We cannot host your ceremony, but we can house your guests. We are especially convenient to venues in Lake Forest and in Tahoe City.
Wedding guests love staying at Tamarack because we have space, both in the rooms and on the grounds. Wedding guests are often looking forward to seeing old friends and meeting new ones. They are not just in Tahoe to play tourist until the wedding begins. We are on nearly 4 acres of land, with a picnic area, with in-room kitchens, and especially with our outdoor fire place, so your guests have plenty of opportunities to spend time together. Of course playing tourist is also encourage, and we can help with that too!
We will be happy to reserve a block of rooms for you and hold them for a fixed period of time. A deposit may be required, depending upon specific circumstances. We have 21 rooms, and a capacity for some 62 guests. If your wedding is on a Saturday in the summer, we ask that your guests stay at least two nights.
Your guests will be able to reserve their rooms on line. We will provide a link and a password which you will communicate to them. In that way your guests will be able to see what rooms are available, and decide what suits them.
Please contact us to discuss your needs.