Dining
There is no dearth of dining options in Tahoe City and the surrounding area. The North Lake Tahoe Chamber of Commerce lists most of them on its website, http://www.gotahoenorth.com/indoors/dining
and we have no intention of duplicating that effort here. Instead we are simply going to name a few restaurants that our guests have repeatedly mentioned as providing a superior meal. Evidently, many excellent restaurants have been omitted, but their omission should not be taken as judgement. By all means explore, and if you wish, let us know what you find. We'll update this list when the feedback we get from our guests suggests that we should.
---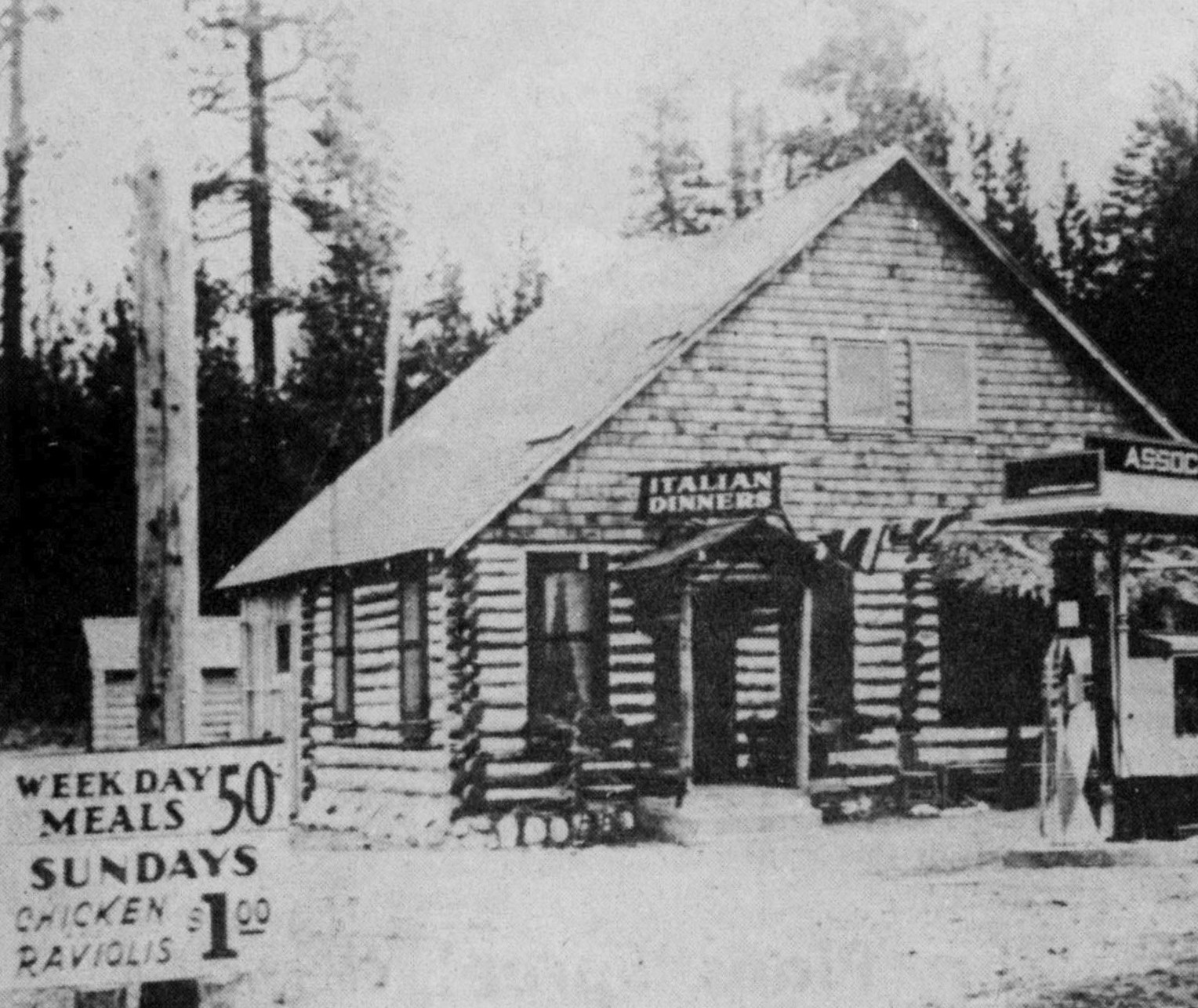 Bacchi's Inn.
In Lake Forest at 2905 Lake Forest Road.
Phone (530) 583-3324.
Be sure to call ahead as it is not open every day. (http://www.tahoesbest.com/Restaurants/bacchis.htm).
Being in Lake Forest, Bacchi's is a bit off the beaten path. You are unlikely to stumble upon it, but it is the closest restaurant to Tamarack; it is just a two minute drive, or you can walk it in 10 to 15 minutes. Exit our parking lot left, then take the first right onto Lake Forest Road. It's a short drive from there, or keep walking for about 10 minutes. You'll find the restaurant on your left.
Go there when you are hungry because you won't go hungry when you are there. Every meal starts with salad, minestrone soup, and antipasto. Then expect a generous entrée. Our guests have repeatedly cited the bountiful plates, the tastiness of the minestrone, and the relaxed authentic Old Tahoe atmosphere as why they enjoy themselves here.
Before you come back to Tamarack, get away from the street lights and look up at the sky. Lake Forest is dark at night. When it is clear (i.e. most of the time), you can see the Milky Way.
If you do decide to go on foot, stop by the office first, and we'll loan you a flashlight.
_________________________________________________________________
The Pioneer Cocktail Club.
In Tahoe City at 521 North Lake Boulevard.
Phone (530) 523-0402
Open only since July of 2018, The Pioneer has been a hit with Tamarack guests thus far, and not just because they are offering our guests a 15% discount on food. Reservations are taken, and they serve until 11:00 pm . https://www.pcctahoe.com.
---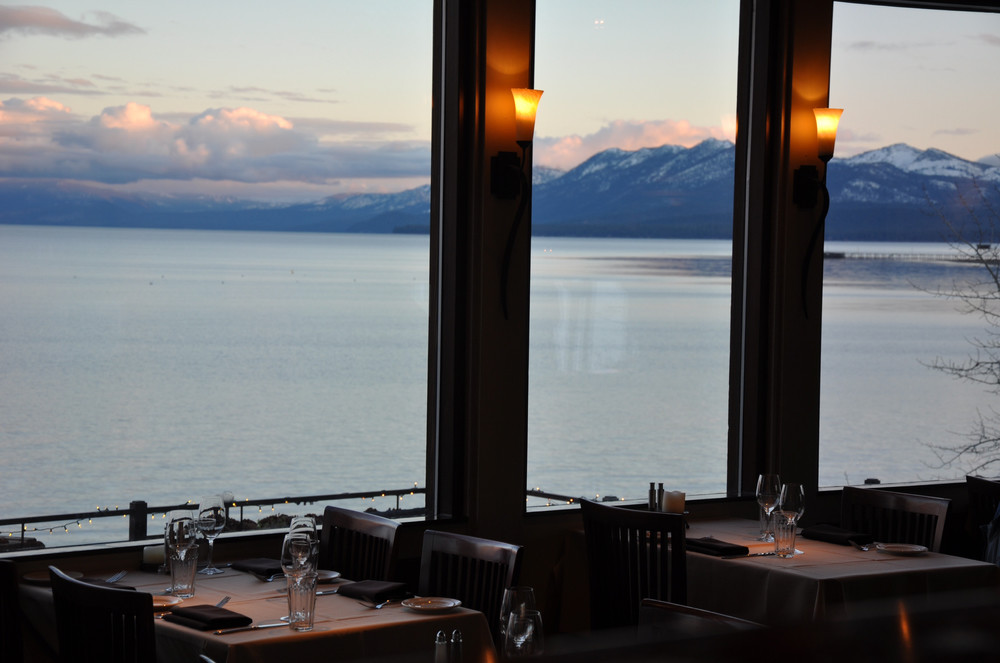 Christy Hill Restaurant.
In Tahoe City, at 115 Grove Street.
Phone (530) 583-8551.
Overlooking the lake. It is best to reserve. http://www.christyhill.com/lake-view-dining . A high quality, low key establishment. Here you can celebrate discretely, and most enjoyably.
---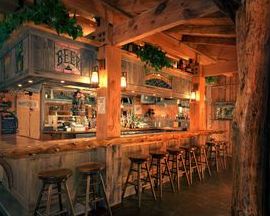 The Bridgetender Tavern and Grill.
In Tahoe City at 65 West Lake Boulevard.
Phone (530) 583-3342. http://www.tahoebridgetender.com/
We always send our late arrivals here for dinner. Sunday through Thursday they close at 11pm. On Fridays and Saturdays they close at midnight. Most other Tahoe City Restaurants stop serving no later than 9pm. On the menu you'll find mostly burgers, sandwiches, and salads. Oh, and a fair number of beers. Lunch outside at a table along the Truckee River is a summertime must.
---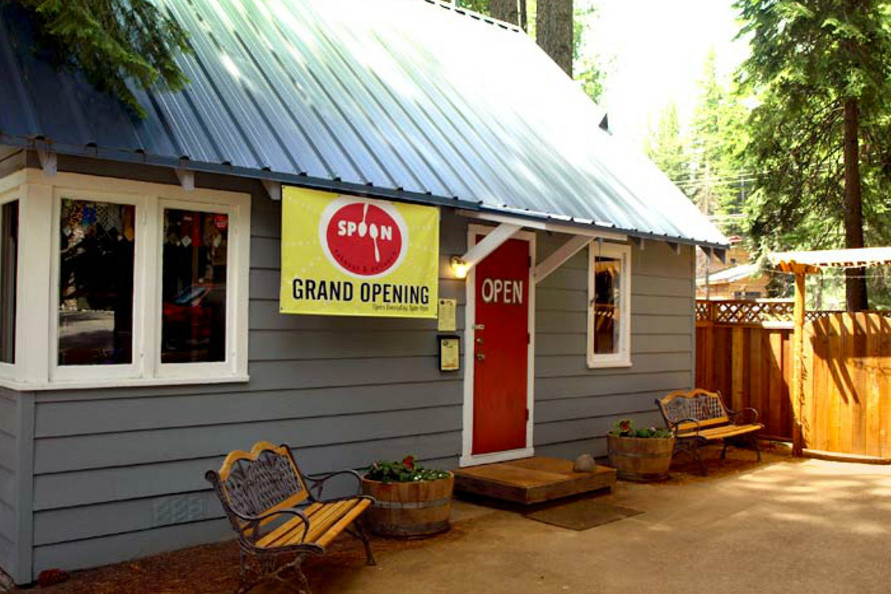 Spoon.
In Sunnyside, at 1785 West Lake Boulevard. Phone (530) 581-5400.

Reservations not accepted. A small place with a small number of tables. BYOB. Got to love the prices. Our guests tell us that the food is quite good too.
______________________________________________________________________
The River Grill.
55 West Lake Blvd, Tahoe City, CA 96145. Phone (530)-581-2644 http://www.rivergrilltahoe.com
Beautiful and calming view of the Truckee River from right below Fanny Bridge. If the ribs are on the menu get 'em. If they're not stay, but come back again another time.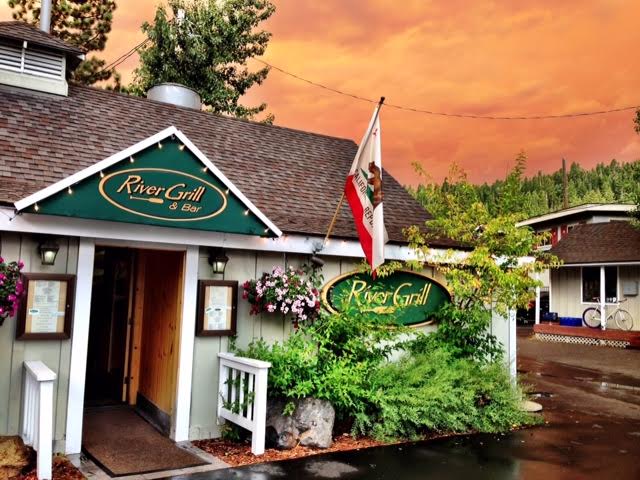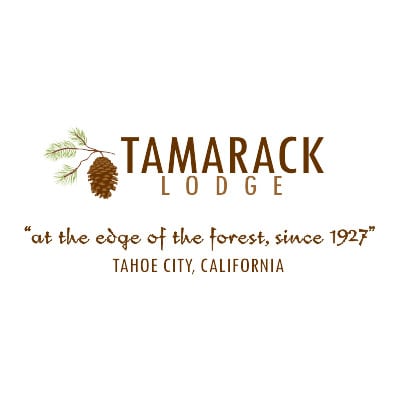 Activities at Tamarack
Have a picnic/BBQ.
Watch the creek flow.
Relax in a hammock or lawn chair.
Enjoy a fire in our outdoor fireplace.
Roast marshmallows in same.
Play horseshoes.
Play table tennis.
Play badminton.
Play croquet.
Play hide and go seek. (200+ trees to hide behind)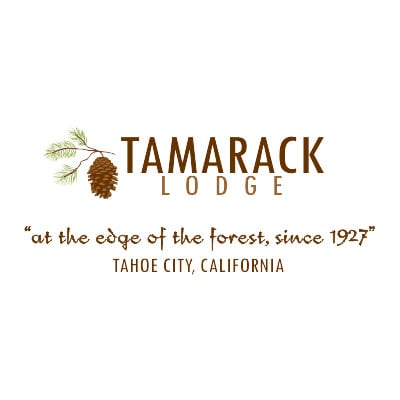 Activities Adjacent to Tamarack
or within a ten minute walk.
Please note that you can hike on these trails all the way to Truckee, so be attentive to your route! The wildflowers in Antoine Meadows are marvelous in the late spring and early summer. The tranquility is there year round. We have personally seen bears, coyotes, does and bucks while walking on these trails.
Mountain Bikes can be rented from Tahoe XC. There are miles of trails. Please visit Lake Tahoe Bicycle Coalition to view an interactive map for Tahoe bike paths.
Immediately across North Lake Boulevard from Tamarack, this is a great visit for kids, but adults will learn plenty too! Get informed on how science is being used to protect and restore Lake Tahoe.
The lake is especially beautiful from this beach or its pier, but is best in the early morning or late afternoon. Exit left from Tamarack and take the first right turn. You'll be on Lake Forest Drive. Walk past the campground and then turn right following the signs to the Coast Guard and boat launching ramp. Ten minutes farther to the east (walking) is Bristlecone beach, which is better for swimmers because it lacks the boats.
Go Ride a Bike
Immediately across the street from Tamarack is a bike path that can be taken east or west. If you go east, it will end in about a mile so for now go west! Keep abreast of plans for the whole Lake Tahoe Bike Way by visiting Lake Tahoe Current Bicycle Projects. The path goes to Tahoe City, and then either down the west shore of Lake Tahoe to Meeks Bay, or along the Truckee River to Squaw Valley. Both rides are lovely and on a dedicated bike path, so you can ride with the kids. Bring plenty of water.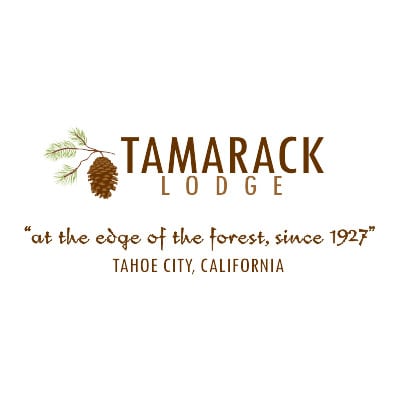 In Tahoe City or Lake Forest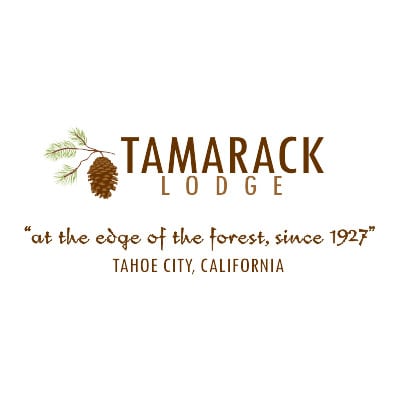 Elsewhere on the Lake
but not too far!
(6 miles from Tamarack, or an 11 minute drive)
A brief stroll – yes, with stroller if you wish- (1 mile round trip) on a paved walkway. Great views! (10 miles from Tamarack, or a 17 minute drive)
Just north of Tahoe Pines on the West Shore, and an 11 minute drive from Tamarack. A relatively new trail (2011) allows for easy access to the top in about 20 minutes. The shortest breathtaking hike in Tahoe.
Spend a quiet afternoon there and visit Ehrman Mansion. Go the last Saturday in July for Living History Day. (11 miles from Tamarack, or a 20 minute drive)
(18 miles from Tamarack, or a 32 minute drive) This absolutely stunning hike practically overhangs the lake at times. It presents no particular difficulties, although you do have to duck your head occasionally. There is limited parking below, so get an early start if you want to start your hike at the trailhead instead of walking an additional 15 minutes to get there. Bring a picnic lunch for when you get to Calawee Cove Beach, then go for a swim. The lake gets deep very quickly here, and you feel it.
If there is one thing you must see if you've never been to Tahoe before, it is Emerald Bay. (20 miles from Tamarack, or a 33 minute drive.) The Eagle Falls trailhead is 3/10th of a mile further, and is perhaps the most popular hike in Tahoe. If you are here in the summer, try to avoid being here on the weekends.
Some favorite beaches that are a little further away are Sand Harbor (18 miles/29 minutes to the east), Baldwin and Pope Beaches (both are 25 miles/45 minutes from Tamarack, but only 6 miles/13 minutes from Emerald Bay). Sand Harbor is well known for its soft, light colored sand. Baldwin and Pope beaches have granite sand, which gives the water exceptional clarity even for Tahoe. Use the Tahoe Beaches App to find these beaches and others.
A popular if strenuous hike. Plan for 6 to 8 hours round trip, and carry plenty of water. A great hike with a great view, but the effort is non-negligible. (27 miles from Tamarack, or a 55 minute drive to the trailhead.)
A popular hike, about 10 miles round trip, of intermediate difficulty. Count on 4 to 6 hours. (Trailhead is 20 miles from Tamarack, or a 32 minute drive.)
Plays are in a natural amphitheater in Sand Harbor. A wonderful summer tradition at Tahoe. (18 miles from Tamarack, or a 29 minute drive.)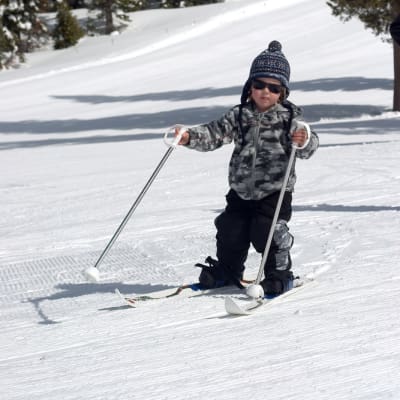 Winter Activities
FROM TAMARACK
Build a snowman or a snow fortress.
Have a snowball fight.
Put on your Nordic skis and go!
You can ski directly from Tamarack to the Tahoe Cross Country Ski trails. Experienced skiers can take the right gate after entering Burton Creek State Park, and follow it until meeting up with Tahoe Cross Country's "Purple Trail" but note that it does not show the Burton Creek part of the trail. That you'll find by visiting Burton Creek. Or ask when you get here.
Less confident, or less able, skiers should take the five minute drive to the Ski Area Lodge.
Put on your snow shoes and go!
For Park information and a map, please visit Burton Creek State Park.
Enjoy a fire in the fireplace. (Weather permitting)
*Call us to learn of snow conditions here at Tamarack.
IN TAHOE CITY
Play at the Tahoe City Snow Park.
Go sledding. Park across highway 89 from the Tahoe City Transit Center. Bring your own sled. Or go a little further to Granlibakken
ALPINE SKIING
Closest resorts to Tamarack:
Alpine Meadows and Squaw Valley are the closest resorts to Tamarack. Although distinct resorts, they are both 9 miles and 15 minutes from Tamarack on highway 89 north. Most of our winter guests ski here and we expect to be selling discount lift tickets for Alpine and Squaw this winter season. Details pending.
Homewood Ski Area is roughly the same distance away, along highway 89 south. Smaller. Less expensive. Lake Views.
Other noteworthy ski resorts include:
Mount Rose has the highest base elevation in Tahoe (8260'). 23 miles or 35 minutes away
Diamond Peak has good prices and great views. 15 miles or 29 minutes away.
SLEDDING
As stated above, you can go sledding in Tahoe City across from the Transit Center, or at Granlibakken. The former is free, the latter is fast.
You can also go sledding/cross country skiing/snowshoeing at Mount Rose Meadow. Free, but bring your own sled/skis/snowshoes. The 8000 foot altitude often offers great conditions when other sledding places are not operating. Take highway 28 east out of Tamarack. Just before Incline Village, take the Mount Rose highway (highway 431) towards Reno. In about 10 minutes – and before the pass -you'll arrive at a long relatively flat area. Sledding is done on the left side of the road, with snowshoeing and cross country skiing on the right.
For snow and powder reports, please visit OpenSnow.